5 ways vinyl wall lettering can help you win big in life
Now, it may seem like the title of this article is a shameless marketing ploy.
And, it is.
But…
It also happens to be true.
Vinyl wall lettering and You
For most of us life moves fast! And our senses are barraged by images, words and sounds. Technology toys give us instant and constant access to Twitter, Tumblr, Facebook, Intagram, Pinterest, etc.
Stopped at a traffic light on the way to the grocery store or pick up the kids? Let's peek at our phone and see what's new on Facebook!
Ding! It'll just take a second to read that email.
Flash! So-and-so is now online.
It gets to be way too much when we are trying to focus on the goals that are truly important to us. It's really easy to get lost, start to spin and never come to a resolution or resting point.
Sound familiar?
At The Simple Stencil, we sure know how it feels to get pulled into 15 different directions at once. One day we decided to "stop the madness" and improve our lives and productivity.
We replaced chaos with order and a sense of calm by using custom vinyl wall & window lettering. No, seriously.
Here's how we did it and you can too!
Using vinyl lettering and words to win big in your life
By "choosing your words wisely" you can create areas in your home, school, place of worship or office which serve as focal points – reminders so to speak – of the life you want to have and the person you want to be.
Here are 5 vinyl lettering transfers ideas that can help you win big!
Kitchen: Choose a vinyl wall phrase that helps promote health consciousness!
Restrooms: On a mirror, apply a vinyl quote that helps instill confidence!
Bedrooms: Use a vinyl transfer and install the wall words that will help those you love relax and fall asleep. Well rested people are more productive people!
Laptops: An uplifting quote applied to a laptop is a great way to remind the ones you love that they can achieve anything they are willing to work for!
Lunchboxes or thermos: Start everyone's day out right by installing a motivational and inspirational saying on these items and more!
More motivational vinyl lettering ideas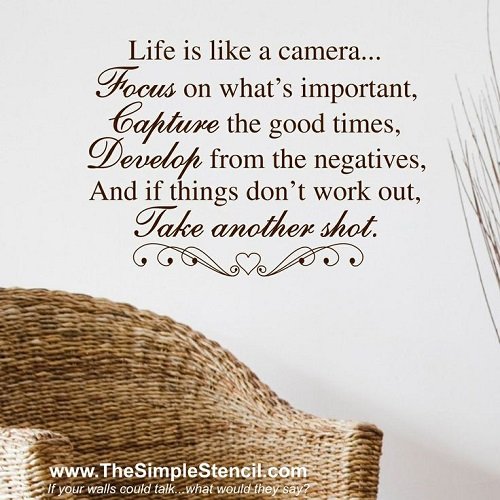 "You can do it!" – The Simple Stencil