Romantic love quotes for your walls.
Simple Stencils customized Valentine wall art and quotes are a great way to surprise your loved one on Valentine's day. Adding a message of love to your master bedroom wall will add a romantic touch to your Valentine's Day plans. Having the message displayed day after day will remind you all year of your the special bond and love you share.
Customized love quotes to make your Valentine swoon…
Our Simple Stencil Online Design Center will allow you to create and customize your own favorite love quote. Express your feelings in a creative way that can be viewed day after day, year after year. Do you share a special name for each other, perhaps a poem, phrase or song lyric that the two of you share? Try designing your words in our easy to use, online designer where you can select various fonts, colors and sizes to create a display that will be cherished by your Valentine. If you aren't able to create something that suits your taste or would like extra design help with your idea, please contact us for a free design mock up.

Classic Simple Stencils Designs
Some of our best selling products over the years have been to celebrate love on romantic occasions. Below is just one example of a romantic wall quote that has stood the test of time. Our romantic collection of decals have adorned the walls of many happy couples homes, wedding venues or anniversary parties. What message of love would your relationship want to express?
100's of romantic wall art designs to choose from.
Simple Stencils collection of romantic wall art designs has something for every style and taste. Browse hundreds of wall decal designs or select from 100's of romantic wall quotes to customize to your specific taste and style.
Customized romantic wall decals on sale!
In the month leading up to Valentine's Day, The Simple Stencil offers several love based $10 decal specials. If you want to try Simple Stencils for the first time, order this or a free sample! Or if you are on a budget, this is a great opportunity to try us for only $10. We know you will LOVE us too! An example of our $10 special is below. Please visit TheSimpleStencil.com to find the most current $10 special, they change weekly. SimpleStencils $10 specials offer some of the most popular designs for at least 50% off.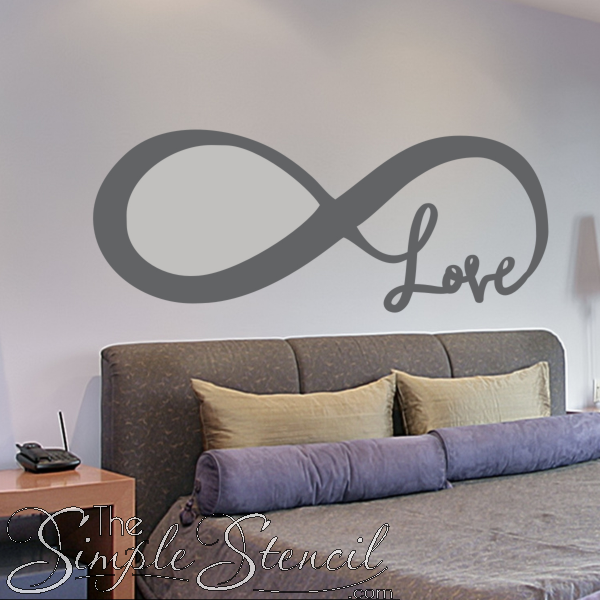 Thank you for your interest in our Simple Stencil wall art to add a romantic touch to your home decorating. Please use coupon code LOVEIN2018 to save 20% off your Simple Stencil order. Coupon expires Feb. 14th, 2018