Valentine's day is the day we express our love in many ways…
Most gifts for a special Valentine consist of a box of chocolates and a vase of their favorite flowers, but why not express your love in a new way this year? Simple Stencils removable wall quotes and decals are a new and unique way to express your most heartfelt emotions, special phrase or poem, even a few song lyrics from "your song". Your own beautiful messages of love can be designed and manufactured into beautiful lettering decals at www.TheSimpleStencil.com who has been helping people like you express their own words in this unique way since 2002.
Simple Stencils are easy to install and actually look painted on but are removable! This makes them ideal to be installed on a wall or window in a Master bedroom, living room area or even at the office. What a great way to be reminded of the special love you and your Valentine share every day of the year! We have hundreds of design ideas to choose from or design your own words of love to create a gift your Valentine will cherish all year through!
Design your favorite phrase, song lyrics or even wedding vows into beautiful wall decor!
Simple Stencils offers hundreds of ideas based on romantic love or even the love shared among family and friends. Browse our large catalog of removable vinyl wall quotes for Valentine's Day. Let us help you find something that will suit your home decor perfectly.
Simple Stencils also offers an online design center that will make creating your own words of love Simple! If you have a special quote you want to design, try it here! This interactive design tool allows you to preview and order your own text in your choice of color, font and size. What a special gift you could offer your Valentine this year by expressing your love in a unique and original way! Better yet…. design something together as a gift to each other… wedding vows are a favorite custom design for couples! Get started spreading the love now!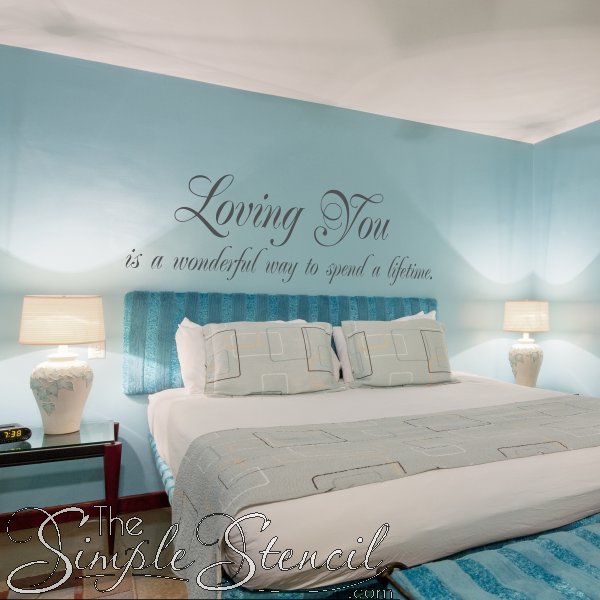 If you don't see what you are looking for or have a special design idea in mind, please reach out to us and let our expert design team custom design something extra special for you! Contact us here!