Irish blessings for your home and office
Oh, the charm and magic of the Emerald Isle. We here at Simple Stencils™ long ago fell under her spell. The majesty of the moors, the stirring sounds of bagpipes and the soul satisfying culinary creations make Ireland an irresistible culture.
And don't even get us started on the band Celtic Woman!
Then, when spring is, well, springing, like many across the globe we look forward to St. Patrick's Day with eager anticipation every year.
March 17th – a rollicking good time, complete with green beer, shamrocks and a tipsy friend dressed up like a leprechaun is always fun and great for Facebook, Instagram and Pinterest photo albums.
So, of course we simply had to create tons of custom Irish and Saint Patrick's Day vinyl wall & window decals in honor of one of our favorite lands and holidays.
How about you? What's your favorite Irish blessing? What personalized Irish sayings, quotes or proverbs would you like adorning your walls or windows spreading love and good cheer throughout the year?
Because our vinyl stickers, stencils, lettering, quotes, graphics are easily installed and just as easily removed, you can change out the Irish blessing or St. Patty's Day decal at whim.
Now, lads and lassies, doesn't that give you the luck o' the Irish?
More Irish Blessings, Proverbs & Quotes for Walls
We've compiled several more Irish sayings for you to choose from. Let us a create a custom vinyl wall stencil using the entire quote or use just your favorite lines from the blessing!
May love and laughter light your days,
and warm your heart and home.
May good and faithful friends be yours,
wherever you may roam.
May peace and plenty bless your world
with joy that long endures.
May all life's passing seasons
bring the best to you and yours!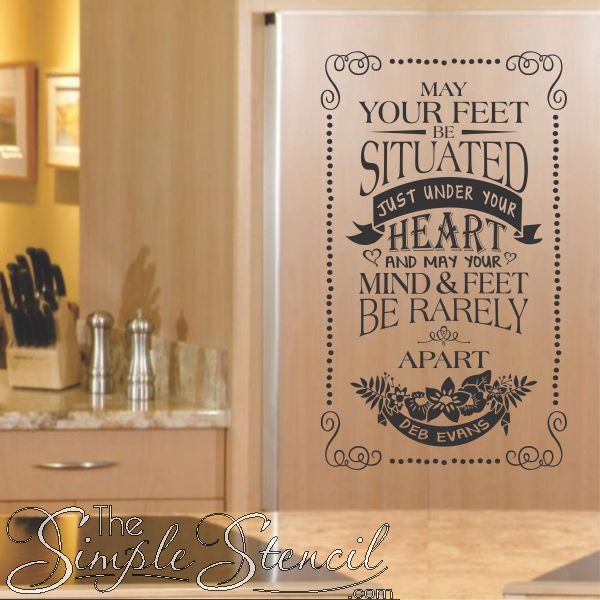 May your pockets be heavy
and your heart be light,
May good luck pursue you
each morning and night.
"May your walls be beautiful and your heart be full." – The Simple Stencil