Mother's Day is just around the corner and so many of us seem to struggle with finding the perfect gift that shows Mom just how much she is loved. Simple Stencils offer so many wonderfully creative and meaningful ideas to give your Mother a gift that will make her feel loved on Mother's Day and all the year through…
Simple Stencils offers a large variety of Mother's Day Quotes and Wall Decal Designs to choose from. How surprised your mom will be to find a beautiful quote displayed on a wall (or picture frame, window, canvas, etc.) when she wakes up Mother's Day morning like this beautiful wall quote that let's mom know she will forever be in your heart.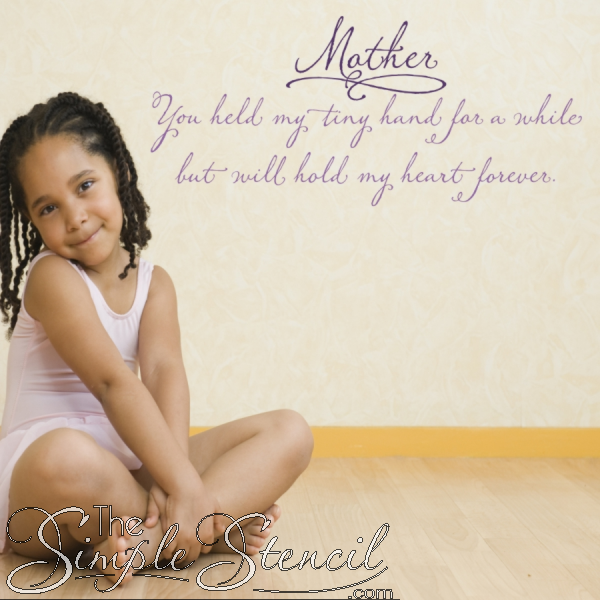 Some of our wall decal designs can even be used to dress up Mom's favorite mug, or create a customized Tervis or Yeti that Mom will use everyday and feel like her cup runneth over with love!
As for my Mother, she is an avid reader and taught my siblings and I the love of reading by providing us with great quality books and reading to us frequently as children. A gift of time and love that will forever be cherished and will span generations. Because of this, I like to give my mother a personalized wall quote (usually about reading) to display and be seen every day near her favorite reading chair that I design in Simple Stencils easy to use Custom Design Center. Simple Stencils huge wall quote catalog offers wall quotes on just about any subject and for any room, browse around and find something perfectly suited for your Mom or custom design a favorite poem, song lyric or phrase into a Simple Stencil Wall Decal that holds meaning between the two of you, it's sure to bring tears of joy to Mom's eyes!
I am lucky enough to have my mother close by but if your mom is across the country, not to worry, Gift Certificates and gift wrapping options are also available!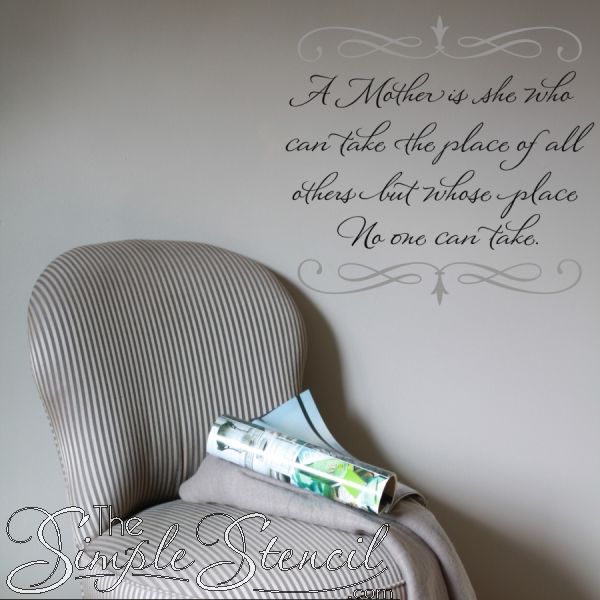 Make sure to spend time, call, acknowledge, and make sure your Mother knows how much she is loved this Mother's Day! And… if you're a Mom yourself, thank you! Many of us at The Simple Stencil are mother's too and we know first hand that
"Mommin' ain't easy…but it's worth it!"