Father's Day stickers and 5 reasons dads love them
There are only so many ties and shaving kits one can get for dear ol' dad and stepdad. After some years, even the best of Fathers can't can't fake surprise when, for the umpteenth year in a row, they've receive yet another gift card – even if it is for Sharper Image.
And just what has grandpa done with all those ties he's gotten over the last twenty five years?
What to get dad this Father's Day
This Father's Day, do something creative! You'll feel better and the dads in your family will really appreciate your thoughtful act of going the extra mile.
Simple Stencils can be used on just about any smooth surface. Plus, our precision die-cut vinyl lettering, stickers and decals are easily installed so they can go on windows, boats, laptops, cars, motorcycles, doors, etc. To help keep dad organized, how about some plastic bins for the garage?
There are many practical uses for vinyl lettering, stickers and decals and the ideas here are just the tip of the iceberg.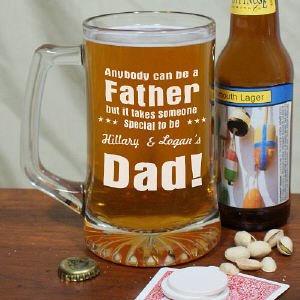 We at The Simple Stencil have declared the following "The Top 5 Reasons Dads Love Vinyl Stickers":
Vinyl lettering looks awesome on tackle boxes.
A coffee mug with a "Super Dad" sticker on it makes the java taste better.
Even a family van can look sporty with the right family-themed decals on it.
Decorated treat jars last forever and are always there to remind dad just how much he's loved.
Beer is better when…aw, who are we foolin'? Beer is just better! But a Pilsner Glass looks way cooler with vinyl lettering on it from The Simple Stencil!
The possibilities to make dad, stepdad and grandpa extra happy this year are endless so what are you waiting for? Visit TheSimpleStencil.com now and get started on the Father's Day gift that will be fondly remembered for years to come!
More Father's Day Vinyl Decal Gift Ideas