A Christmas tree wall decal can really spruce up a place!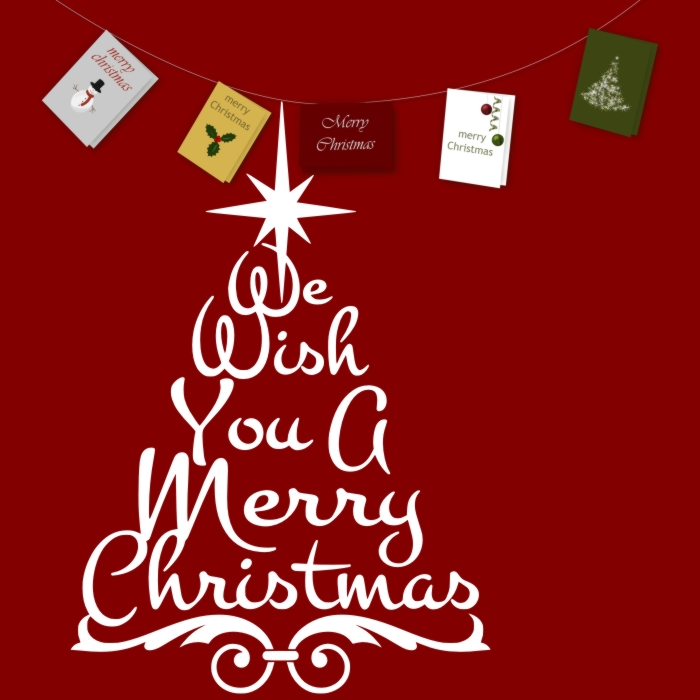 For every year this Christmas tree,
Brings to us such joy and glee.
Oh Christmas tree, Oh Christmas tree,
Such pleasure do you bring me!

Each shining light
Each silver bell
No one alive spreads cheer so well
Is it wrong that we're singing Christmas carols and designing new Christmas tree wall decals in June? In Florida?
But who can help it, really?
No matter the spiritual paradigm practiced, there's just something so uplifting about the Christmas season!
Add Santa, snow, and some Simple Stencils and it's no wonder winter a favorite time of the year! 😉
However, in all fairness, it really wouldn't matter what holiday was on the horizon because it's really trees that we love. After all, we are located in Gainesville, Florida – the place where the city commission strives to keep us "the city in a forest".
Though some think the Christmas tree traditions of today are driven purely by commercialization we prefer to think of Christmas trees in terms of the tree's symbolic meaning.
Plant new Christmas tree wall decals every year!
Now, you might be thinking you're seeing a typo. Plant new Christmas tree wall decals? Huh?
Stay with us on this, we promise there's a logical explanation!
The very first Christmas trees were evergreens – an ancient symbol for life. Back in the day, folks placed evergreens in their home and began decorating them in celebration of the winter season and the spring season to come.
We see Simple Stencil Christmas tree wall decals in the very same light and believe they fulfill the same purpose.
How many family memories have been made around the choosing and decoration of Christmas trees? What family traditions have been made during Christmas time and honored by future generations?
Add the spiritual meaning of trees to all the family experiences associated with Christmas trees and you've got a reason to 'plant' a new Christmas tree wall decal every year!
How to plant a Christmas tree wall decal
A couple months before Christmas, get together with your family and choose a Christmas carol verse, psalm, quote, bible quote, paragraph from your favorite Christmas story, or favorite family saying that you want to make into a tree wall decal.
Choose your vinyl lettering size, color, and font type and then order!
When it's time to decorate for Christmas, install your vinyl decal on the smooth surface of your choice and done! You've planted a Christmas tree wall decal!
Simple Stencil wall & window vinyl decals are very easy to install and remove! They won't harm surfaces (including painted ones) and they're super affordable. This means that each Christmas season you can have a different tree wall decal.
Visit our custom design center or let us help you design the perfect tree decal for your holiday season!
To help you get started, here are a couple more of our favorite Christmas tree wall decals…